St Kieran Newsletter, Term 2, Week 8 - 11 June 2021
5 FAST Mood Boosters
It's not uncommon to experience short periods of feeling over-whelmed and being mildly overawed. The following tips are from Dr Timothy Sharp of the Happiness Institute and author of "100 Ways to Happiness: A Guide For Busy People".
Get Moving - The benefits of exercise are widely known but often over-looked when we are busy. Even a 10 minute brisk walk changes the scenery and can relax the mind. Whilst we are least likely to do this when we are busy, that is the time we need it most. Look at it as a ten minute investment, not ten minutes wasted.
Perform an Act of Kindness - Being kind to others and lending a helping hand are great ways to lift the spirit. Acts of kindness and happiness have been shown to be reciprocal. The more satisfied a person feels with themselves, the more likely they will be to help others. The more that we help others, the more worthwhile and satisfied we feel about ourselves. Helping somebody else smile is a sure way to put a smile back on your face.
Making someone a coffee, offering to help someone, jotting a quick note of appreciation or covering for someone who needs a break, are little things that will not only help others, but will help lift your spirits too.
Count Your Blessings - Gratitude is very important when you are feeling low. Rather than focusing on what is lacking in our life or what could be improved, we need to focus on what we have and is going well. Often we take the good things in our life for granted. It is important that we take the time to appreciate the good things!
Call or Catch Up With A Good Friend - At times when we are busy we can also isolate ourselves from our friends. This is counter-productive. Taking the time to touch base with friends can also bring things into perspective. Social interaction increases our sense of belonging. Research has shown that laughter is the best medicine for overcoming a short period of feeling down. The release of endorphins is followed by a more relaxed state and a return to equilibrium. Chatting with an old friend about funny things that have happened in the past breaks our glum mood and gives us the opportunity to regain perspective.
Reward Small Steps - Identify both a task that you have been procrastinating about and a small 'reward' to have once the task is completed. "When I've finished …this marking. I'll get a …nice cup of coffee!"
We all get a little drained at this time of term - this one especially challenging, a long 11 week term always is tough. Term 2 is always an interesting time, not only as staff, but also as students and especially parents, there is lots on! Not only do you have the business of schools to attend to, but also the winter sports and activities and then keeping an eye on our calendar! Make sure you are all looking after yourselves and are getting the rest you deserve!
Take care and enjoy the weekend.
Regards
Daine Burnett
Principal
daine.burnett@cewa.edu.au
Kieran Connect
Our first meeting was held on Tuesday night with our newly formed Kieran Connect Executive Team. There is a lot of excitement around the opportunities that present themselves for the remainder of the year and we look forward to the events coming up. When you see the dates sent out don't hesitate - make sure you book these in!
Kindy 2022
A reminder to all families that we are currently interviewing for Kindy 2022. If your child is born between 1/7/2017 - 30/6/2018 please ensure you have lodged an enrolment application. These positions are filling up rather quickly so if you have not placed an application form for a sibling or know of family or friends wanting to come to St Kieran every child needs to go through the application process.
Newsletter - Translate
Just a reminder that our school newsletter can be translated into any language through the website, just click on the Google Translate button on the top of the page and select your language.
After School Pick Up Arrangements
Thank you to all the families who have been doing the right thing in the school pick up line and those who are walking in via the Tyler Street gates. Just a reminder that if St Kieran students are waiting for siblings from Servite to come and collect them, they must wait in the undercover area. Servite siblings are asked to walk in via the Tyler Street gates as all pedestrians do. Students will be supervised in the undercover until 3.30pm and if they are not collected by then, they will wait in the front office for collection.
School Uniforms
It is great to see more students wearing the correct school uniform this week. There have been some stand out classes who are taking pride in their appearance and representing our school brilliantly. Thank you to the families for your support with making sure your child is wearing the correct uniform.
Confirmation Commitment Mass
The 12th and 13th June is the weekend of the Confirmation Commitment Masses. Students who have enrolled to make the Sacrament of Confirmation must attend one of the parish masses as a sign of their commitment.
Smart Watches
As we continue to grow in this IT and the tech world there are many things we continue to need to address and one of these is Smart Watches or wearable devices. We understand that many of these devices are very popular and many students do have them, however we do ask for parent support to ensure that these features are turned off during class time and that by wearing these devices the students are taking responsibility for their appropriate use. If your child does have a smart watch that they wear to school please ensure they are aware of this responsibility.
Nationally Consistent Collection of Data
The Nationally Consistent Collection of Data on School Students with Disability (NCCD) takes place every year with all schools within Australia. The NCCD is a collection that counts:
the number of school students receiving an adjustment or 'help' due to disability
the level of adjustment they are receiving to access education on the same basis as other students.
Students are counted in the NCCD if they receive ongoing adjustments at school due to disability. This 'help' allows them to access education on the same basis as a child without disability. The NCCD uses the definition of disability in the Disability Discrimination Act 1992. Schools provide this information to education authorities.
Below is a link to more information for parents, guardians and carers interested in learning more about the NCCD.
https://www.nccd.edu.au/sites/default/files/fact%20sheet%20for%20parents%20guardians%20and%20carers.pdf
Variety Motor Mouth Camp
Please find some information about Variety Motor Mouth Camp. Applications for the 2021 Motor Mouth Camp are now open for families and volunteers! The Variety Motor Mouth Camp assists children with complex communication needs that use an AAC device to express themselves. The camp is an immersive experience, encouraging the child and their family to fully embrace their device and incorporate it into everyday life. This years camp will run from Friday 1st October - Sunday 3rd October at Point Walter camp site in Bicton. If you are ready for a weekend of fun, development, and activities - apply now!
https://www.variety.org.au/wa/programs/mmc/?fbclid=IwAR1NHksJKHh2bU24sz3It5r4jJ9RAc480pmOYOVJjSWexIrjBYmpGs7z7ss
After School Athletics Club
This term St Kieran students have had the opportunity to be involved in an after school Athletics club. The sessions were held at Grenville Reserve and the students who participated had a great time!
Students joined in activities and games to improve movement skills, running technique and overall fitness.
Thank you to Miss Oregioni and Mrs Stanford who helped with the sessions.
Keep your eyes open for Performing Arts Club in Term 3 where students can sing, dance and perform their hearts out.
This will be followed by a Science Club in Term 4 that gives students an opportunity to further discover the 'Wonderful World of Science' and extend their investigative skills in a relaxed and fun environment.
Ben Hort
Winter Sports Carnival
Yesterday all of our Year 5 + 6 students participated in a soccer, football and netball carnival.
I would like to thank all the parents that came to watch and support, especially those who assisted our teams on the day. Without those volunteers we wouldn't be able to enter as many teams and therefore have as many children participating.
Fortunately, despite the poor forecast we actually didn't receive too much rain and the students did a fantastic job representing our school. All teams managed a few wins on the day. A special mention to our A division netball girls who went through the day undefeated!
Ben Hort
Kindy Enrolments 2022
If your child was born between 1 July 2017 - 30 June 2018, we are currently completing enrolments and conducting interviews for Kindy 2022. Please make sure that you let your family and friends know and if you have a sibling please ensure that you have completed an enrolment form.
St Kieran - Entertainment Book
Support our fundraiser and SAVE BIG these school holidays. Your membership is for 12 months and you can save at places like AQWA, SUBWAY, McDONALD's, SWAN VALLEY CUDDLY ANIMAL FARM, ROTTNEST FAST FERRIES, OUTBACK SPLASH & EVENT CINEMAS plus lots more. Buy today https://www.entertainmentbook.com.au/orderbooks/8438s8
Behaviour Tonics Courses
Our webinars are interactive in that they include polling activities (quizzes), live question time and a chat room where participants can communicate via a keyboard.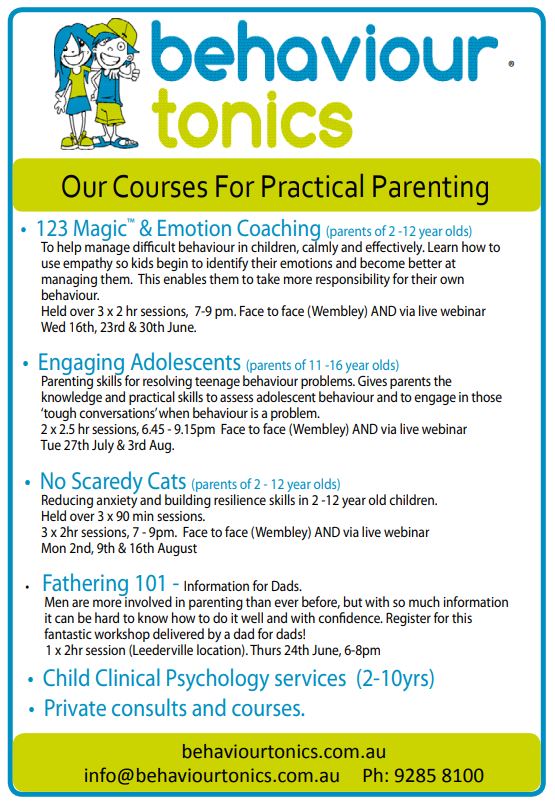 Mercedes College enrolments 2023 & 2024
Mercedes College | 86 Victoria Square | Perth WA 6000
T: (08) 9323 1323 | F: (08) 9323 1333 | W: www.mercedes.wa.edu.au
E: admin@mercedes.wa.edu.au
Tuart Hill Out of School Care Vacation Program
Mulberry Tree Kids Club Vacation Care
Attached is the vacation care program for St Kierans OSHC only I will need the form signed on the first page under each day you require and also all the details on page 2.
I cannot enter a booking until this form is returned and signed correctly.
On Friday 16th of July is it National Pyjama Day please bring in a gold donation attached is a flyer regarding this day and where the money goes.
New room Leader Sarah Harris
A lot of families would of met Sarah by now, Sarah has taking on the room leader roll at St Kierans OSHC Sarah has worked for the company for a number of years.
Sarah is very Passionate about working with children and loves physical education as well as art and craft activities.
If you have any questions please don't hesitate to contact myself or Sarah.
Pupil Free day St Kierans OSHC.
Monday 19th of July is a pupil free day at St Kierans Primary School if you are interested in booking your child/ren in for this day please let me know as I will need a minimum of 10 children to open the service.
Availability
We have availability every morning for before school care
We have availability on Fridays Only for after school care.
Kind regards,
Michelle Murphy
OSHC Manager
Mulberry Tree Kids Club
PH: (08) 93452211
232 Cape Street
Tuart Hill WA 6060